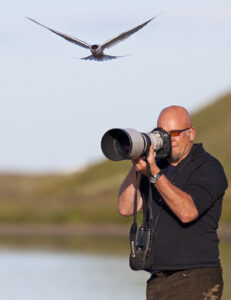 Jóhann Óli Hilmarsson, is a leading authority on the birds of Iceland and one of the countries's most experienced bird photographers.
He has written numerous articles on birds in books, magazines and papers and is the author of two bestselling books, The Puffin and Icelandic Bird Guide, a photograpic guide which has been sold in 40.000 copies. Jóhann Óli has held many courses, lectures and exhibitions and his photographs has been published around the world, i.e. in books, magazines, on stamps, bank notes etc.
All images appearing on the web are the property of Jóhann Óli Hilmarsson. The copyright is protected by Icelandic and international laws. Their reproduction and all use is only allowed with written permission of the author. © Jóhann Óli Hilmarsson.